Top posting users this week
Top posting users this month
Affiliates
We have no affiliates.
Vital Statistics:
Name:
Alice Silvana Walker
Age/Grade:
15/Freshman
Gender:
Female
Height:
5' 2"
Weight:
109
Appearance: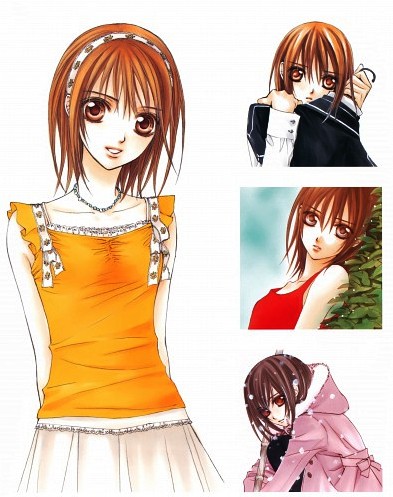 Relations:
Alice an older brother and one parent - her doting father.
Sexuality:
She's straight and had managed to only have one boyfriend (though it was only holding hands and small kisses on the cheek - didn't go on a date; relationship just remained in school), seeing as her remaining family members scared off any boy that went near her. And she's not very experienced despite having had a relationship before.
Preferences:
Alice has a weird scarf fetish. She absolutely loves it when a guy is wearing a scarf. Although she wouldn't mind getting together with whoever suites her fancy, she prefers the mysterious guys - just the ones that makes her want to figure them out. And another type of guy she has a weakness for are ones that are distant or cold. But she also doesn't mind guys who are outgoing, and generally nice and funny.
Likes:
Books, books, and more books! Alice also likes cute clothes, pasta, pastries, singing, and playing the piano (though she's still working on improving herself).
Dislikes:
She doesn't dislike a lot of things, but among them: bullies, arrogant people, and scary/horror/thriller things (movies, books, etc.).
Back story:
History:
Growing up with only a house of men Alice has become accustomed to acting like one from time to time. Throughout elementary school she was part of 'the guys' and was always included in their little games of tag and whatnot. However, this caused great animosity towards her from the other girls in class. Thankfully (or not) during middle school, this all ended. Girls didn't bother her anymore, but at the same time she drifted away from her male friends.
Feeling alone and having trouble making girl friends, Alice threw herself into the world of books. Everyday she was always reading a different book, never communicating or hanging out with anyone. With a lot of free time on her hands as well Alice studied for classes like a machine and ended up being one of the top students. Her attitude, sometimes, didn't help her gain new friends either. From time to time Alice would sound too bossy, or was too much of a teacher's pet by constantly answering questions and running errands for them.
While her brother was off having fun with his school life, her father felt it best for his daughter to go somewhere different. See the world beyond their little town, and, hopefully, make some friends along the way. His solution? Whisper Hallow.
Freshman




Posts

: 76


Join date

: 2011-10-17



Sophomore




Posts

: 191


Join date

: 2011-10-08


Age

: 28



---
Permissions in this forum:
You
cannot
reply to topics in this forum